Let us first go through the Microsoft Windows calculator accessible from Start > Programs > Accessories > Calculator and try out all the available options. This application is a clone of the Windows default calculator (with not all the features, of course).

This application is freeware in nature and you can reuse/distribute the source code as you require (as long as the name of the application is not altered).

Source code:

If you are interested in obtaining the source code for this application, click here [25.6 KB].

Screen-shot of the final running application is,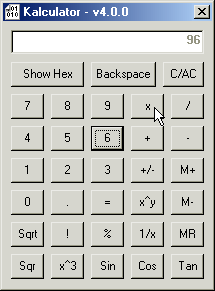 You can download the application (the binary) from here [124 KB].